Aging and Money
INTERNATIONAL WEBINAR On Aging & Money "Building A Strategic Focus Towards Retirement"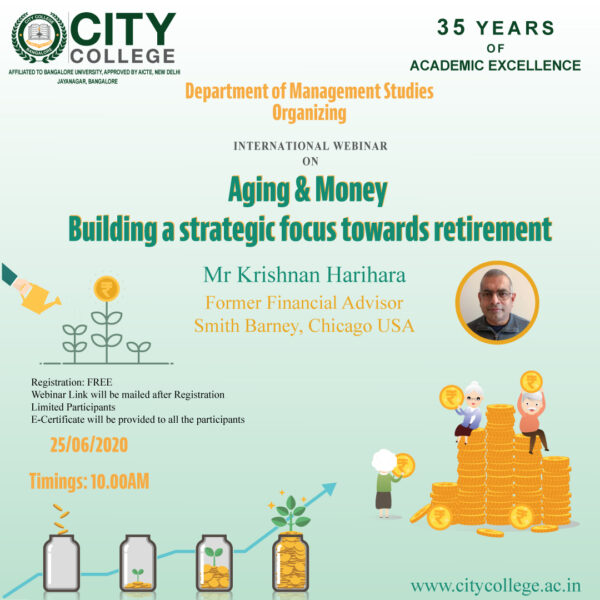 City College organized an International Webinar on Aging & Money- Building A Strategic Focus Towards Retirement. Around 1200 registered participants were part of the webinar session.
The Resource person for the session- Mr. Krishnan Harihara, is a professional financial advisor at Smith Barney and UBS Financial Services for over twenty years.  Prior to his retirement, he managed over INR 2,500 Crores of client assets using a variety of instruments including stocks, bonds, real estate, precious metals and alternative investments.  Kris received an undergraduate degree in Engineering at the Institute of Technology, Banaras Hindu University and a Masters in Finance at the University of Chicago in Chicago, Illinois.  He has taught economics and statistics as an adjust lecturer at Roosevelt University for many years.  His interests include tennis, chess and irritating fellow human beings with silly jokes.
The session highlighted more on different patterns/options of short term investment and the risk involved it and also the benefits and returns expected with it. A detailed discussion on the opportunities in terms of ROI on long term investment & retirement benefits etc pertaining to the age group of the individuals.
Session also helped us to understand various platforms of investment, their products and ROI and other benefits aligned with them like Stocks, Mutual Funds, Sovereign Bonds, Real Estate Government Bonds, Metals, Currency Trading etc, The information shall greatly help participants to plan their retirement and some of the important investment patterns to follow. He also explained how to create a balanced portfolio to have an enhanced control over the investments.