Being Vocal About Local
National Level Webinar on "Being Vocal about Local: Implications to Indian Economy"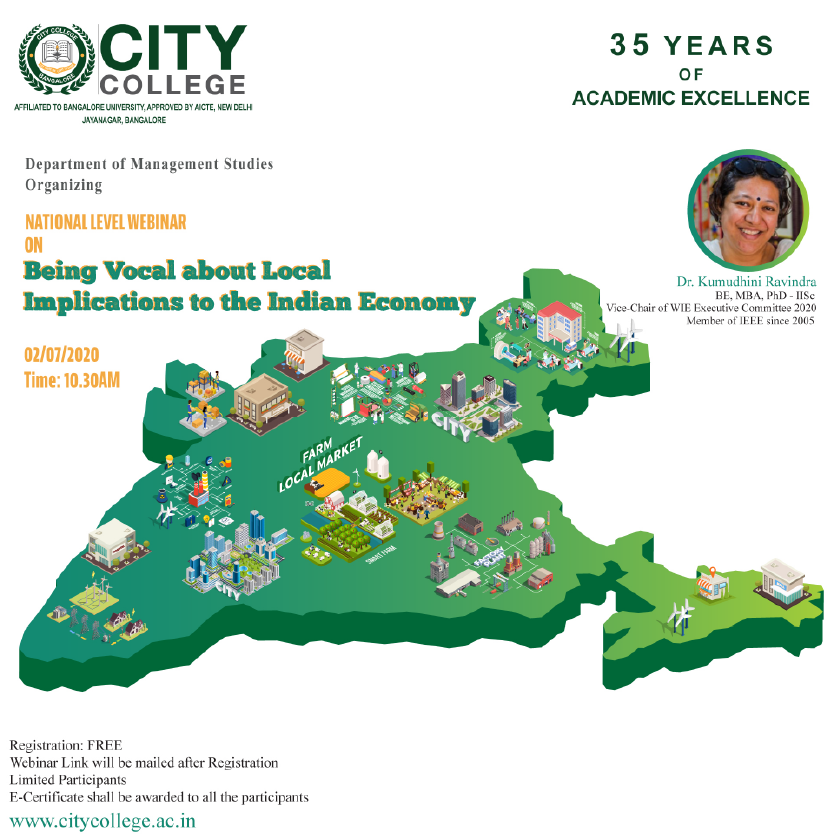 City College organized National Level Webinar on the theme: "Being Vocal about Local-Implications to the Indian Economy" on 2nd July2020 at 11 AM. Around 1100 participants registered for the session. The participants included academicians, corporate professionals  research scholars and students across the country.
Resource Person of the session- Dr. Kumudhini Ravindra, a business transformation leader with about two decades of multidisciplinary and multi domain experience. She is presently the Chief Strategy Officer and Co-founder of Inytu, and the Chief Mentor at Blue Lotus Inc.
Dr. Kumudhini completed her PhD in Clean Energy Modelling and Management from IISc, Bangalore in 2011. She also holds an MBA from the Department of Management Studies, IISc and a BE (Electrical & Electronics) from UVCE, Bangalore University.
Dr.Kumudhini is an expert in outcome based education and has successfully worked with many Institutions and Universities in Higher Education. She is an active member of IEEE for over 15 years and has held many voluntary positions, and is presently the vice-chair of WIE executive committee for 2020. She has published and presented several research papers and keynotes in academia and industry. She is a visiting faculty at many illustrious colleges in Bangalore and a business coach.
The session focused on:
Overview of Indian Economy
Overview of Localization.
Factors affecting the Indian Economy-COVID Run
Geo-political Issues around the world
12-agenda for Localization through: Plan, Execute, Assess and Improve
Substantiated with Case Studies- Adaptations to Localization
Resource Person enlightened the participants and it was well-articulated deliberation. Participants expressed appreciation over the flow of the session which was followed by Interactive session.