Investment Awareness
National Level Webinar on "Creating Investment Awareness among Salaried Employees with a focus on Financial Planning"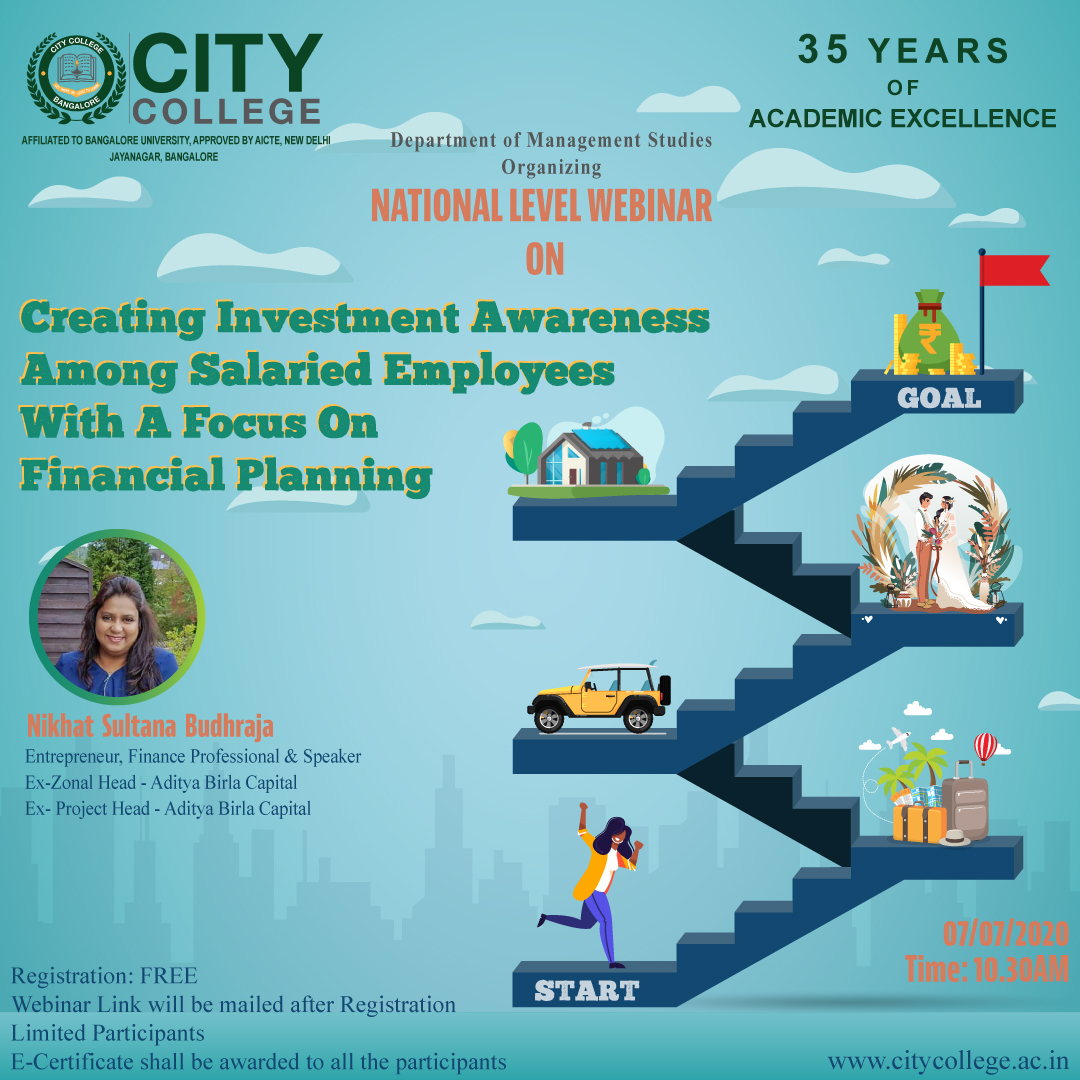 City College organized National Level Webinar on the theme: "Creating Investment Awareness among Salaried Employees with a focus on Financial Planning" on 7thJuly 2020 at 10.30 AM. Around 1000+ participants registered for the session.
Resource Person – Ms. Nikhat Sultana Budhraja
Nikhat, is a highly accomplished and renowned professional in public speaking. She has an extensive work experience of 17 years, worked in different organizations such as mutual fund  such as Sun F& C, Tata Asset Management Ltd and presently working in Aditya Birla Sun Life Financial Services as fund manager. Her professional stint involves various projects of Aditya Birla Group spread across the country. She has delivered lot of presentations and conducted seminars with  employees  at 'Hindalco', ' Madura Garments', 'Jay shree Textiles', 'Idea' and have received immense appreciation for the same. Her innovative idea and concept of running a mobile office located at far-off plants like Renukootas was widely covered and acknowledged by Press as this is the first of its kind in the Mutual Fund industry. She holds Bachelors of Commerce Degree from Bhowanipore Education Society, Calcutta University and MCA from National Institute of Information Technology NIIT.
The  session focused on:
Overview of Investment Portfolio and Asset Allocation
What are mutual funds and why.
Different MF's & goals, How to Win with SIP, How to invest in MF's, Benefits of Mutual Fund
Step by step guide to generating wealth
Sessions was well explained with videos
Resource Person enlightened the participants and it was well-articulated deliberation. Participants expressed appreciation over the flow of the session which was followed by Interactive session.