Online Classes During Corona
Online Classes During Corona
Who would have thought that classes would be conducted on laptops and mobile screens rather than classrooms? Maybe in a distant future, yes! A lot of us would have imagined this. Due to the outbreak of corona virus, we made some unprecedented changes in teaching using technology tools.
The Corona outbreak emphasized the fact that there is need to strengthen our education models and welcome technology into our lives. The students were facing a certain degree of uncertainty with respect to their classes, examinations and immediate futures. City College initiated online lectures to PUC and UG students and provided our students with the much-needed academic relief.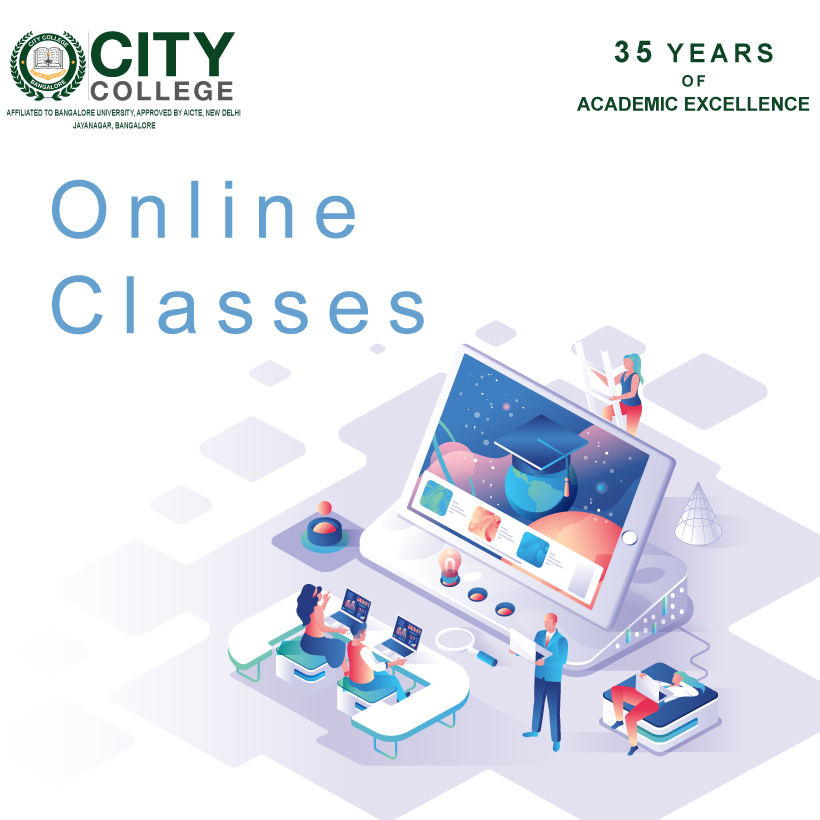 "Post COVID-19 and the multi-phase 48-day lockdown, there has been a surge in online education by schools and colleges. City College faculty across departments responded to the situation swiftly conducting online classes using tech platforms like Zoom and Google Classroom. Thanks to the telecom penetration and connectively India has established over the years, the adaptation was smooth, fast and effective considering the pandemic situation.
 Classes are being scheduled using Google calendar for the week. Every week's sessions are being notified to students through email. Every faculty shares subject wise weekly tasks like assignments, videos and other reference materials to students through Google drive. They conduct live classes through meet.google.com, zoom app where students join as per the schedule. Regular attendance are maintained through log-in details.
The classes are also made interactive through in app chats facility where students could clear the doubts during class. Apart from this, the sessions are recorded which shall give students an opportunity to review the sessions later. They also use 'bitpaper.io' as their virtual whiteboard.
To assess students understanding and progress, the teacher conducts oral Q&A session during the online classes.  After every topic, an online test is conducted where the question paper is related at a definitive time after setting the duration. The marking scheme is sent after the test and students can evaluate the score.
­
We believe that online classes has allowed students to become more responsible and take ownership of their learning and once both lectures and students become comfortable with the online sessions, any challenges during a crises can be addressed in the future.