Women's Day Celebrations
Women's Day Celebrations 2020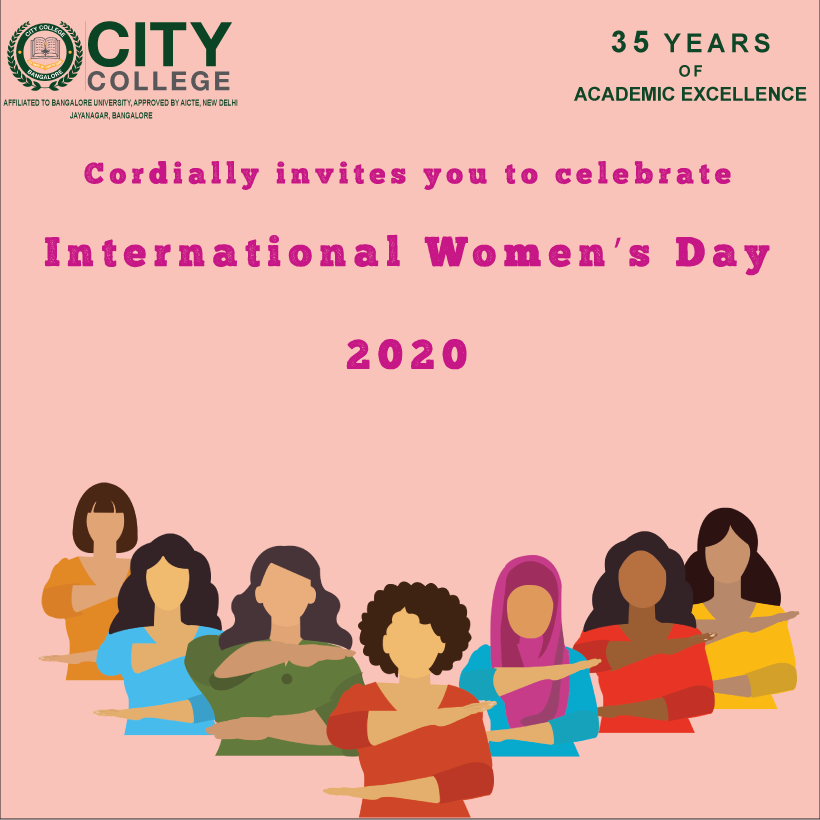 'Woman'- the word invokes selfless love, care and many more emotions. At CCJ, Women's Day has always been a day of great significance. It was more special this year, as we had our other staff members from AMC-City group Institutes who took part in the celebration at our Jayanagar campus. This spectacular  activity was  steered and monitored by our very own young and dynamic leader Ms. Monica Kalluri.
The theme for this year was each for equal. City College, Jayanagar had organised a beautiful event on the occasion of women's day on 8th march 2020 power packed with activities.  We had Mrs. Soumya Reddy, MLA Jaynagar as our chief guest. Along with Ms Reddy, we had our beloved Chairman Dr. K.R.Paramahamsa- President JES, Mrs. K. Geetha Paramahamsa- Vice Preident & Secretary, JES ,Ms. Monica Kalluri- Executive Secretary, JES, Mr. Rahul Kalluri, Dr. Malini N – Principal, City College and faculty members from City College, City Engineering College, NPS Jaynagar  and NPS Vijaynagar.
Mrs. Soumya Reddy boosted the gathering with her charming speech about the initiatives in Jayanagar constituency on women's empowerment and related activities. Ms Reddy herself inspired the gathering with her own story of becoming the leader she is. Further, the gathering was addressed by our Chairman as well as our Principal.
The touching moment of the event was when the management felicitated all the teaching and non-teaching staff members of AMC-City Group who have been serving the organisation in their respective capacities for over 10 years. It was an emotional moment to witness staff members who dedicated decades and contributed to the growth of the organisation.
The entire activity was plastic free, Each invitee was given a sapling. Followed by the felicitation was cultural performances by our teaching staff. It was very funny to see our Male staff members performing for all of us. The cultural activity included dance, singing from various  faculties from the institutions under AMC.
We look forward for next women's day with added extravaganza!