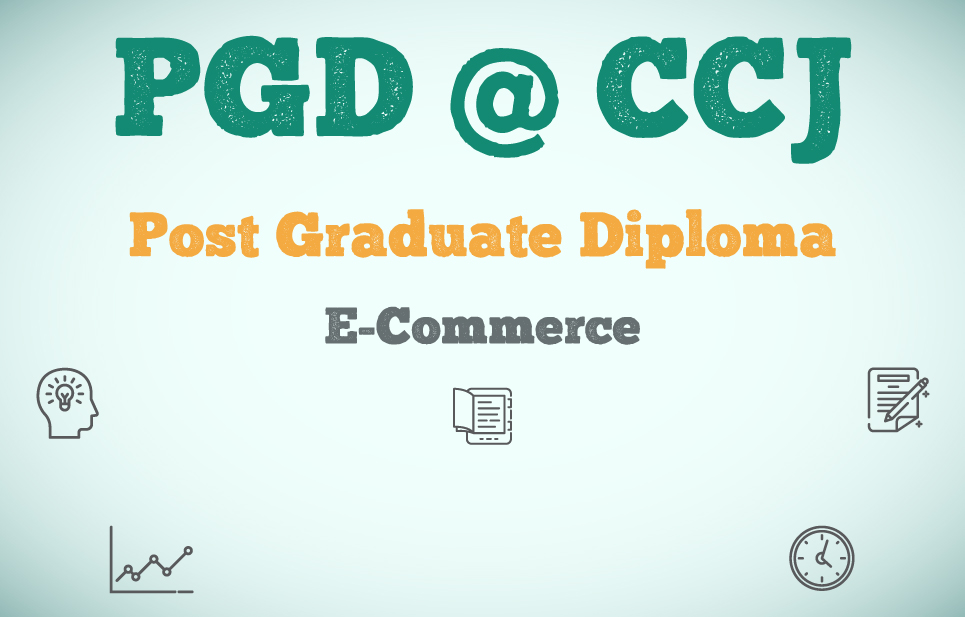 1 Year full time comprehensive industry ready next gen PG Program covering the concepts of IT, Commerce, Management & Finance. Course imparts sound knowledge in the fields of IT, Commerce, Management, Finance and Economics. During the course students are introduced various aspects of e-commerce applied in the business.
The course enables students to manage E-Commerce portals and apps. Students will be imparted with the knowledge on technical aspects associated with E-Commerce such as – servers, network security, payment systems etc. It opens up a wide range of career options in  E-Commerce business, online marketplace, online retail firms and any organization or sectors which uses technology platform as the nodal point for its business operations.
At CCJ, we aim to produce quality graduates who possess excellent understanding of the concepts, good communication skills, interpersonal skills, leadership abilities and a great team player. We focus on developing each student according to their strengths and areas of interest.
The value-added program offered helps every student to enhance their soft skills and technology skills. The learning passed through student driven extra-curricular activities, sports, fests, culturals, various student forums, student clubs and their activities and initiatives adds real time exposure to students and helps build their overall personality making Cityites more confident, competent and very importantly more responsible individuals.
PG DIPLOMA IN E-COMMERCE
MAJOR CORE AREAS OF SYLLABUS AS PER BANGALORE UNIVERSITY
First Semester

Second Semester

 

Managerial Process

Specialization Papers

Organizational Behaviour & Development

Business Ethics/ Human Values

Organizational Communication
Experimental Learning
Technology Based Training
Domain Training
Soft Skill Training
General Value Added Programs
Industrial visit
CSR activities
Life style management
Out bound training
Management fest
Job fair
EDP
Leadership
Team building through sports
Seminars
Workshop
Conference
Exhibitions
Industry Internship
Project Work
Bangalore University Students
| | | |
| --- | --- | --- |
| 01 | SSLC / 10th Marks Card Original | |
| 02 | 12th/ PUC Marks Card Original | |
| 03 | Degree Marks Cards Original | |
| 04 | Degree Certificate or Convocation Certificate or Provisional Degree Certificate | |
| 05 | Transfer Certificate Original | |
| 06 | Adhaar Card Xerox | |
| 07 | Photos 6 PP Size | |
| 08 | Caste/Income Certificate | Not Mandatory |
| 09 | College Application Form | |
Documents to be required for the PG/PG Diploma Courses
Other Than Bangalore University (ie. Bangalore North University, Bangalore Central University, Kuvempu University, Mysore University, Rajasthan University, etc)
| | | |
| --- | --- | --- |
| 01 | SSLC / 10th Marks Card Original | |
| 02 | 12th/ PUC Marks Card Original | |
| 03 | Degree Marks Cards Original | |
| 04 | Degree Certificate or Convocation Certificate or Provisional Degree Certificate | |
| 05 | Transfer Certificate Original | |
| 06 | Migration Certificate | |
| 07 | Adhaar Card Xerox | |
| 08 | Caste/Income Certificate | Not Mandatory |
| 09 | College Application Form | |
Documents to be required for the PG/ PG Diploma Courses
Foreign Nationals
| | | |
| --- | --- | --- |
| 01 | SSLC / 10th /PUC/Degree Marks Card Original | |
| 02 | Degree Corticated Original | |
| 03 | Transfer Certificate Original | If Available |
| 04 | Pass Port/VISA  Xerox | |
| 05 | Medical Fitness Certificate | |
| 06 | Photos 10 PP Size | |
| 07 | Eligibility Application | |
| 08 | College Application Form | |
Eligibility: Bachelor's Degree
Intercollegiate Sports, Fests and Cultural
Guest Lectures from Experts