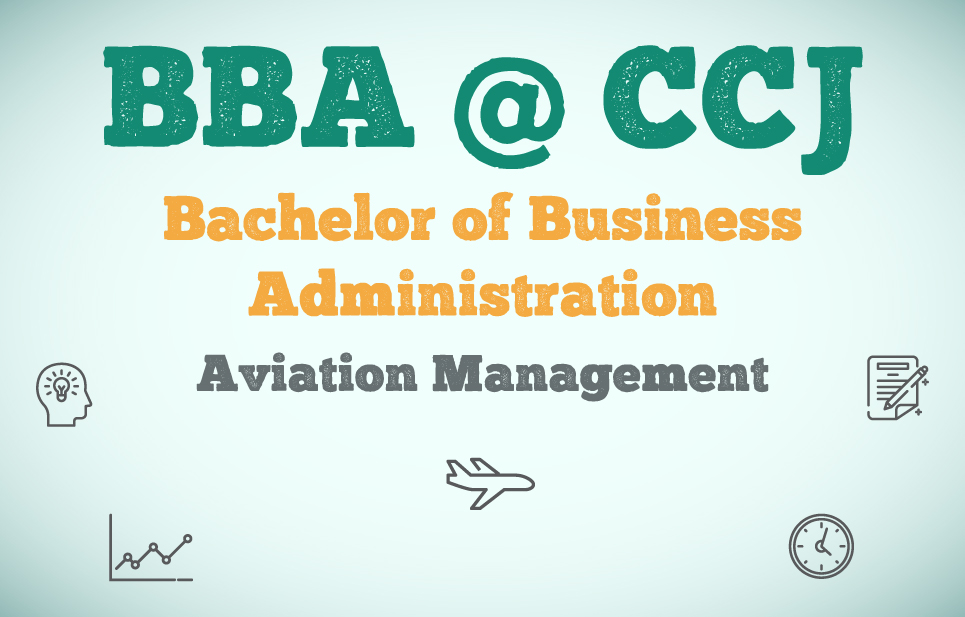 The program is designed to offer students with a strong background of managerial skills and leadership practices in aviation management. The course aims to develop qualified professionals in the field of modern aviation management to understand the challenges and laws of the global and competitive aviation sector. The program designed based on a multi-disciplinary competence framework and includes some of the general and specific areas of management concepts like strategic management, personnel management, marketing, project management, aviation industry, organizations of aviation sector, air traffic control, operations and management of airlines, planning and management of airports and  tourism management. Our Aviation program aims to develop aviation management professionals who will understand the importance of the aviation industry and will be able to apply modern management concepts, enabling them to act more quickly in a changing global and competitive aviation sector. The teaching methodology is a blend of theory and interactive sessions, field work, projects and presentations.
This course caters to those students who are seeking careers in management and operation in the airside activities of the aviation industry. BBA Aviation degree holders work as Credit Control Manager, Airport Manager, Test Manager, Program Manager, Assistant Airport Manager, Airport Operations Manager. Such graduates may later pursue an MBA or a Diploma Degree in Aviation.
 We provide hands-on experience in the following training: Water Survival, Raft Boarding, Grooming, First Aid Training, Emergency Exit, Smoke & Live Fire Training, Ramp Safety Training etc. Students are also exposed to practical things to gain better insight.
At CCJ, we aim to produce quality graduates who possess excellent understanding of the concepts, good communication skills, interpersonal skills, leadership abilities and a great team player. We focus on developing each student according to their strengths and areas of interest.
The value-added program offered helps every student to enhance their soft skills and technology skills. The learning passed through student driven extra-curricular activities, sports, fests, culturals, various student forums, student clubs and their activities and initiatives adds real time exposure to students and helps build their overall personality making Cityites more confident,  competent and very importantly more responsible individuals.
Technology Based Programs
Flight Analysis
Airport Operations Management
Airline/Airport Revenue Forecasting
Guest Relationship Management
Ticketing and Passenger Services
Fuelling Management
Airport Planning & Management
Aviation Security & Safety Management
Air Cargo Management
Airport Economics
General Value Added Programs
Industrial visit
CSR activities
Life style management
Out bound training
Management fest
EDP
Leadership
Team building through sports
Seminar
Workshop
Conference
Job fairs
Exhibitions
Technology Based Programs
Data analytics
ERP
SAP
SPSS
Six sigma
Digital marketing
SCM
Project management
General Value Added Programs
Industrial visit
CSR activities
Life style management
Out bound training
Management fest
EDP
Leadership
Team building through sports
Seminar
Workshop
Conference
Job fairs
Exhibitions
Research exposure
Seminar /workshop/ conference/ development fairs and exhibitions, research survey paper presentations etc.
Research survey
Paper presentations etc
UG Courses: Karnataka PU Board Students
| | | |
| --- | --- | --- |
| 01 | SSLC / 10th Marks Card Original | |
| 02 | 12th/ PUC Marks Card Original | |
| 03 | Transfer Certificate Original | |
| 04 | Adhaar Card Xerox | |
| 05 | Photos 6 PP Size | |
| 06 | Caste/Income Certificate | Not Mandatory |
| 07 | College Application Form | |
UG Courses Other than Karnataka PU Board (ie.CBSE/ICSE/Sate Boards etc.)
| | | |
| --- | --- | --- |
| 01 | SSLC / 10th Marks Card Original | |
| 02 | 12th/ PUC Marks Card Original | |
| 03 | Transfer Certificate Original | |
| 04 | Adhaar Card Xerox | |
| 05 | Photos 6 PP Size | |
| 06 | College Application Form | |
UG Courses : Foreign Nationals
| | | |
| --- | --- | --- |
| 01 | SSLC / 10th Marks Card Original | |
| 02 | 12th/ PUC Marks Card Original | |
| 03 | Transfer Certificate Original | If Available |
| 04 | Pass Port/VISA  Xerox | |
| 05 | Medical Fitness Certificate | |
| 06 | Photos 10 PP Size | |
| 07 | Eligibility Application | |
| 08 | College Application Form | |
Intercollegiate Sports, Fests and Cultural
Guest Lectures from Experts