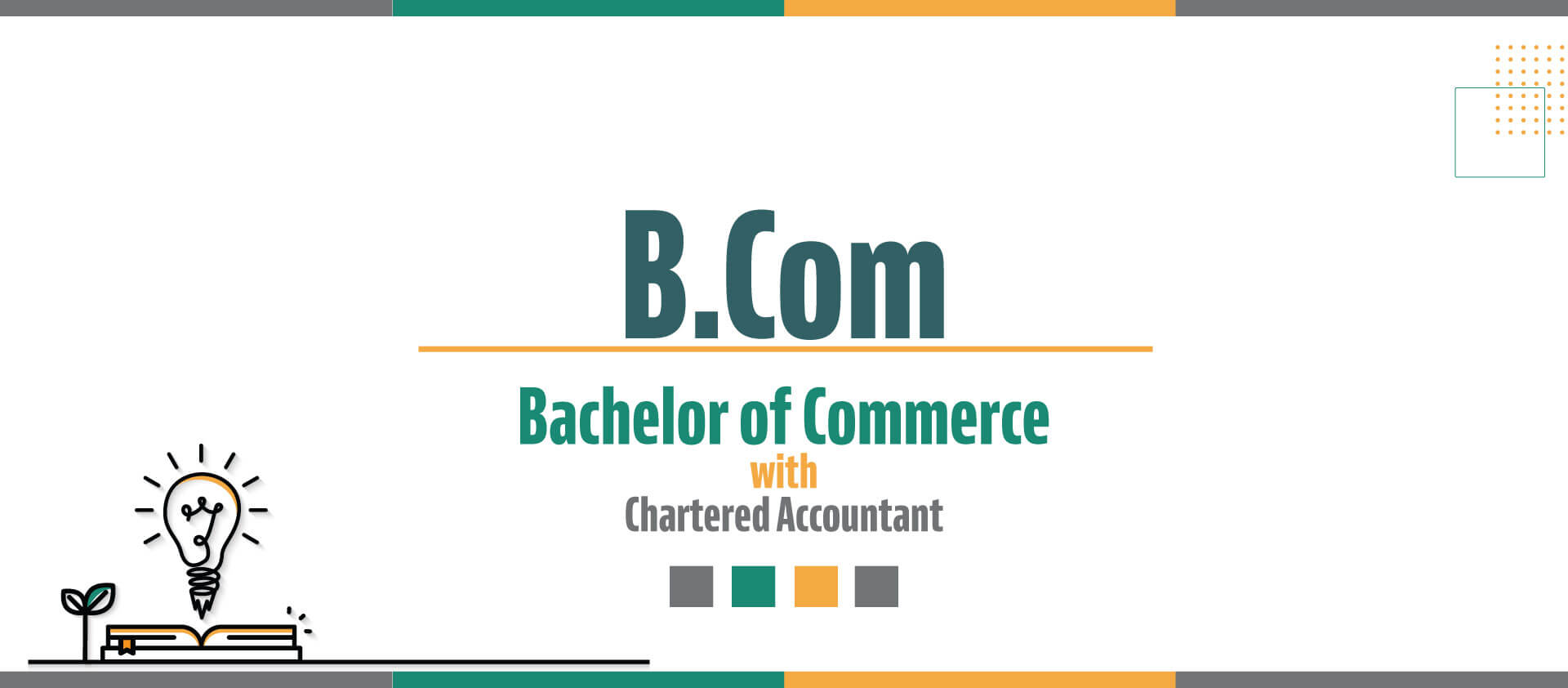 B.Com with Chartered Accountant
Commerce Education
The course is appropriate for students who want to gain knowledge and comprehension of the concepts, principles, methods, and processes involved in accounting and taxation. Students interested in becoming chartered accountants may also apply to this program.
The business statistics and accounting of an organisation are implemented and presented in accountancy. It is one method an organisation uses to monitor its income, expenses, and profits.
Actuarial science, applied information economics, biostatistics, business statistics, data analysis, demography, econometrics, energy statistics, engineering statistics, psychological statistics, social statistics, and other specialised subjects are some of the areas that statistics investigates.
Program Specific Outcome
● Students seeking a BCom degree can learn in-depth fundamentals about a variety of financial and management accounting topics.
● The goal of the Cost Accounting Management programme is to educate students for careers in a variety of business settings and industries. CMAs in India are certified by the Institute of Cost Accountants of India (ICAI).
● It is a great career move to decide to pursue a B.com in CA. You can also observe the numerous other advantages like pay raises, job security, and respect from others.
● The ability of students to manage accounting and financial-related issues at all levels and to contribute to the efficient operation of business organisations.
Value Add Programs
● Data Analytics using Python
● Certified Course in Digital Marketing
● Hands-on Training in Web & IoT Technologies
● Introduction to Accounting and Investment
● Brand Management
● Personal Tax Planning
● Entrepreneurship and Small Business Management
● Microsoft Excel Certification
B.COM- MAJOR CORE AREAS OF SYLLABUS AS PER BANGALORE UNIVERSITY
Ist Year B.com
First Semester
Second Semester

 

Financial Accounting

 

Advanced Financial Accounting

 

Marketing and Services Management

 

 

Retail Management

 

Corporate Administration

 

Banking Law and Operations

 

M & T for Business Decisions

 

Quantitative Analysis

 
IInd Year  B.com
Third Semester

 

Fourth Semester

 

Corporate Accounting

 

Advanced Corporate Accounting

 

Financial Management

 

Cost Accounting

 

Business Ethics

 

E-Business and Accounting

 

PR & CC

 

Stock and Commodity Market

 

Principles of Event Management
IIIrd Year B.com
Fifth Semester

 

Sixth Semester

 

Entrepreneurship Development

 

Business Regulation

 

IFRS

 

Principles of Auditing

 

Income Tax-I

 

Income Tax-II

 

Costing Methods

 

Management Accounting

 

Advanced Accounting

Business Taxation

Goods and Service Tax

Cost Management
Career Opportunities
● Accounts Executive
● Operations Management
● Financial Data Analyst
● Accountant
● Cashier
● Teller
● Junior Bank Manager
● Junior accountant
● Business Executive
Scholarships for this Program
● CCJ Students Scholarship: Students with 70%or more are eligible for this Scholarship, depending on the percentage merit, Scholarship will be provided.
● Deference & State Police Scholarship: Child of Defense and State Police, scored a minimum of 70% are eligible for this Scholarship
● Sports Scholarship: International/National level medalist gets complete educational fees wavier for the entire program under this Scholarship, other sports scholarship available.
● BPL Scholarship: Merit students in this category with out-standing & excellent academic record is eligible for this scholarship.
Technology Based Programs
MS Office
MS Excel
Digital marketing
Tally ERP
International Financial Reporting Standards
Capital Market
NISM Certification
AMFI Certification
General Value Added Programs
Industrial visit
CSR activities
Life style management
Out bound training
Management fest
EDP
Leadership
Team building through sports
Seminar
Workshop
Conference
Job fairs
Exhibitions
UG Courses: Karnataka PU Board Students
| | | |
| --- | --- | --- |
| 01 | SSLC / 10th Marks Card Original | |
| 02 | 12th/ PUC Marks Card Original | |
| 03 | Transfer Certificate Original | |
| 04 | Adhaar Card Xerox | |
| 05 | Photos 6 PP Size | |
| 06 | Caste/Income Certificate | Not Mandatory |
| 07 | College Application Form | |
UG Courses Other than Karnataka PU Board (ie.CBSE/ICSE/Sate Boards etc.)
| | | |
| --- | --- | --- |
| 01 | SSLC / 10th Marks Card Original | |
| 02 | 12th/ PUC Marks Card Original | |
| 03 | Transfer Certificate Original | |
| 04 | Adhaar Card Xerox | |
| 05 | Photos 6 PP Size | |
| 06 | College Application Form | |
UG Courses : Foreign Nationals
| | | |
| --- | --- | --- |
| 01 | SSLC / 10th Marks Card Original | |
| 02 | 12th/ PUC Marks Card Original | |
| 03 | Transfer Certificate Original | If Available |
| 04 | Pass Port/VISA  Xerox | |
| 05 | Medical Fitness Certificate | |
| 06 | Photos 10 PP Size | |
| 07 | Eligibility Application | |
| 08 | College Application Form | |
Intercollegiate Sports, Fests and Cultural
Guest Lectures from Experts
Top B.Com with Chartered Accountant College in Bangalore