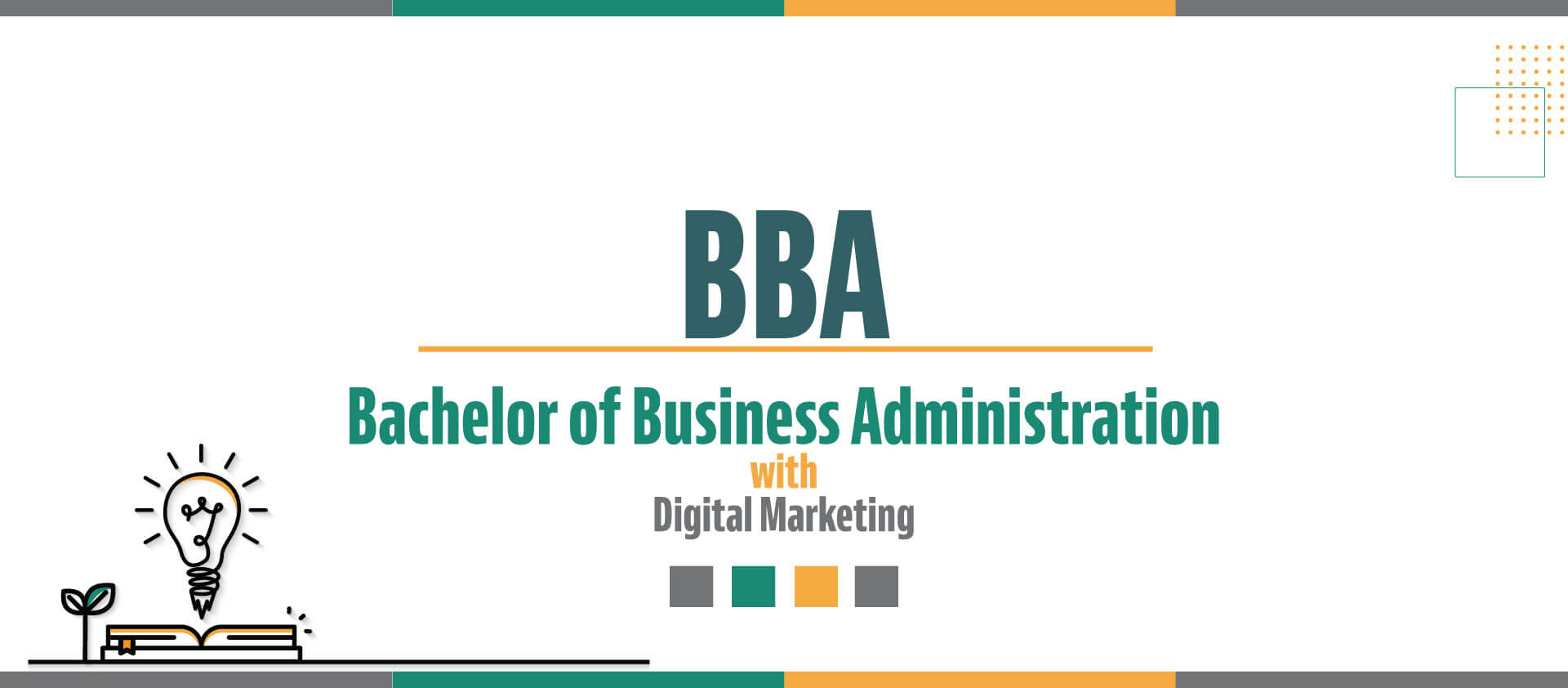 BBA In Digital Marketing – Bachelor of Business Administration in Digital Marketing
Management Education
The course is designed to give students a solid foundation in digital marketing concepts such technological platforms, SEO/SEM, social and web analytics, the landscape of digital advertising, and new media approaches for customer engagement.
The BBA Digital Marketing Course gives students a thorough understanding of how to develop and execute an e-business while promoting their products on well-known search engines and other social media platforms. It is intended to provide a practical grasp of digital content creation for society and enterprises, as well as how it fits into a larger marketing framework.
Program Specific Outcome
● Develop the necessary business savvy so that students can comprehend the essential business processes and spot business possibilities for effective business management.
● Obtain management-related information and abilities to comprehend business issues and create solutions.
● Understand managerial difficulties, concerns, problems, and business possibilities in a global business setting by demonstrating critical thinking skills.
● To achieve long-term corporate success, develop ethical sensitivity when making decisions.
Value Add Programs
● Data Analytics using Python
● Certified Course in Digital Marketing
● Hands-on Training in Web & IoT Technologies
● Introduction to Accounting and Investment
● Brand Management
● Personal Tax Planning
● Entrepreneurship and Small Business Management
● Microsoft Excel Certification
BBA- MAJOR CORE AREAS OF SYLLABUS AS PER BANGALORE UNIVERSITY
Ist Year BBA
First Semester
Second Semester

 

Fundamentals of Accounting
Financial Accounting
Business Organization and Environment
Quantitative Methods for Business-II
Quantitative Methods for Business-I
Organizational Behaviour
Management Process
Production and Operations Management
IInd Year  BBA
Third Semester

 

Fourth Semester

 

Soft Skills for Business
Business Research Methods
Corporate Accounting
Marketing Management
Human Resource Management
Financial Management
Business Regulations
Service  Management
Corporate Environment
Banking Regulations and Operations
Business Ethics
Cost Accounting
IIIrd Year BBA
Fifth Semester

 

Sixth Semester

 

Entrepreneurial Management
International Business
Computer Application in Business
E-Business
Investment Management
Income Tax
Management Accounting
Strategic Management
Electives
Electives
Electives
Finance
Marketing
Human Resource
V  Sem
VI Sem
V  Sem
VI Sem
V  Sem
VI Sem
Advanced Financial Management
International Finance
Consumer Behaviour
Brand Management
Employees Welfare & Social Security
Organizational Change & Development

Financial Markets & Services
Stock & Commodity Market
Advertising & Media Management
Retail Management
Strategic HRM
Compensation Management
Career Opportunities
● SEO Executives
● SMM Executives
● Digital Business Marketer
● Content Marketing Strategist
● Digital Marketing Strategist
● Social Media Executives
● Marketing Analytics Executives
● Customer Care Executive
Scholarships for this Program
● CCJ Students Scholarship: Students with 70%or more are eligible for this Scholarship, depending on the percentage merit, Scholarship will be provided.
● Deference & State Police Scholarship: Child of Defense and State Police, scored a minimum of 70% are eligible for this Scholarship
● Sports Scholarship: International/National level medalist gets complete educational fees wavier for the entire program under this Scholarship, other sports scholarship available.
Technology Based Programs
MS Office
MS Excel
Digital marketing
Tally ERP
Data analytics
SAP
SPSS
Six Sigma
SCM
General Value Added Programs
Industrial visit
CSR activities
Life style management
Out bound training
Management fest
EDP
Leadership
Team building through sports
Seminar
Workshop
Conference
Job fairs
Exhibitions
UG Courses: Karnataka PU Board Students
| | | |
| --- | --- | --- |
| 01 | SSLC / 10th Marks Card Original | |
| 02 | 12th/ PUC Marks Card Original | |
| 03 | Transfer Certificate Original | |
| 04 | Adhaar Card Xerox | |
| 05 | Photos 6 PP Size | |
| 06 | Caste/Income Certificate | Not Mandatory |
| 07 | College Application Form | |
UG Courses Other than Karnataka PU Board (ie.CBSE/ICSE/Sate Boards etc.)
| | | |
| --- | --- | --- |
| 01 | SSLC / 10th Marks Card Original | |
| 02 | 12th/ PUC Marks Card Original | |
| 03 | Transfer Certificate Original | |
| 04 | Adhaar Card Xerox | |
| 05 | Photos 6 PP Size | |
| 06 | College Application Form | |
UG Courses : Foreign Nationals
| | | |
| --- | --- | --- |
| 01 | SSLC / 10th Marks Card Original | |
| 02 | 12th/ PUC Marks Card Original | |
| 03 | Transfer Certificate Original | If Available |
| 04 | Pass Port/VISA  Xerox | |
| 05 | Medical Fitness Certificate | |
| 06 | Photos 10 PP Size | |
| 07 | Eligibility Application | |
| 08 | College Application Form | |
Intercollegiate Sports, Fests and Cultural
Guest Lectures from Experts
Top BBA in Digital Marketing College in Bangalore